The newsworthy stuff.
From our quarterly newsletter and #CommunityMatters efforts to our Community Event room, these are the moments, happenings and newsworthy mentions.
#Communitymatters
 
We continue to live our #communitymatters initiative. On April 27, we donated and installed our 3rd Blessing Box at the Jeffersonville Township Public Library location on East Court Avenue in Jeffersonville, Indiana.
The Blessing Boxes serve as emergency food micro-pantries to help those struggling to make ends meet.
We want to thank Jeffersonville Township Public Library, for allowing us to partner with them in providing for those in need in our community.
#CommunityMatters 2022 Donations
We have selected five non-profits worthy of our recognition and support.
Click here for our 2022 #Communitymatters recipients.
The non-profits are:
Sponsor of Rotary Club of Clarksville's "I Like Me" books distributed to the local kindergarten students in Clark County.
LifeSpring's mission is "to improve and sustain the quality of life in our communities by providing comprehensive behavioral health, addiction, primary care, and related services." Our values are, "It is our privilege to serve, with the highest quality of care, in a professional and fiscally responsible manner."
Founded in 2012, Pure Education provides specific tools to students and families to counteract the culture and mindset of a life with no boundaries or self-control, producing harmful results that impact individuals, families, and the entire community.
"Our curriculum and approach teach students their value and self-worth, instilling confidence to make healthy decisions. All curriculum is based on a public health model that addresses the whole-person-physical, emotional, mental and social – while meeting state educational health standards that are documented, medically accurate and research-based."
Southern Indiana Animal Rescue.
Southern Indiana Animal Rescue is a small yet powerful rescue. We do not have a facility, and all our dogs are placed in personal foster homes. We are not breed-specific. The men and women who donate their time to our cause are full-time employees, parents, and friends. You'll see us together at events, of course, but you'll also spy many of us simply having dinner together. The passion we have for dogs has turned our relationships into lifelong friendships. We comfort each other when things don't go as planned, and we celebrate together when things go right.
InKy Animal Rescue Inc. is an all-volunteer rescue that has a network of animal fosters who are dedicated to rescuing animals in need of finding their forever homes in the Southern Indiana/Kentucky area.
Please help us bring support & awareness to these wonderful organizations in our community!
#CommunityMatters
Credit unions worldwide were built on "People Helping People" premise. In 2019, we returned to our roots and developed a new initiative called #CommunityMatters. The sole purpose of this initiative was to make a positive and lasting contribution to the communities we serve.
Blessing Box
We installed our first Blessing Box in 2019  at our Lewis & Clark Parkway location in Clarksville. The Blessing Box is a micro pantry stocked with non-perishable food items to help feed the hungry in our community. The need for quick access to emergency food is great. Many people in our community "run out of money before they run out of the month." Since 2019, we have provided several Blessing Boxes to non-profits in Clark & Floyd counties to help them address the food shortage in our communities.
To celebrate. To commemorate. To honor. Our offices are closed on these holidays.
| Holiday | Day and Date |
| --- | --- |
| New Year's Day | Friday, January 1, 2022 |
| Martin Luther King Day | Monday, January 17, 2022 |
| President's Day | Monday, February 21, 2022 |
| Memorial Day | Monday. May 30, 2022 |
| Juneteenth | Monday, June 20, 2022 |
| Independence Day | Monday, July 4, 2022 |
| Labor Day | Monday, September 5, 2022 |
| Columbus Day (Observed) | Monday, October 10, 2022 |
| Veterans Day | Friday, November 11 , 2022 |
| Thanksgiving | Thursday & Friday November 24 - 25, 2022 |
| Christmas | Monday, December 26, 2022 |
| New Year's Eve | Open until 12 noon, Saturday, December 31, 2022 |

Happy Thanksgiving from our family to yours.
Please download your free printable Gratitude Chain Activity – Thanksgiving Chain.
Click on the above link, save the pdf file to your device, then print as many as you need (on colored paper) for your Thanksgiving or Friendsgiving gathering. We recommend around five strips (1 page) per guest.

Welcome to One Vision Credit Union's Pet of the week.
As a part of our #communitymatters initiative, we have partnered with the @NAFCanimalshelter to showcase the pets in our community needing a home.
Meet Lady Di. She's pretty cool.
Lady D's got a few quirks, but in reality, we all do to some degree.
Lady Di showed up one day as a stray and decided she was ready for a new home. The staff here at The New Albany Floyd County Animal Shelter noticed that boy, was this dog full of personality. Words can't fully describe her, but we'll give it a go:
-Would do best with an experienced dog owner.
-Picky about her dog friends.
-Was once the state champion of the international Scrabble League (or so she claims).
-Maybe an Australian Cattle Dog, maybe a Great Pyrenees mix, definitely big and fluffy. Think like 55ish pounds.
Once Lady Di has you picked as her person, it's going to be really hard to walk away from her because this gal knows how to lay it on thick to get what she wants. She's an independent gal who needs people a little more than she thinks she does. She's spayed, she's microchipped, she's up to date on vaccinations, and she's got a lot of opinions.
If you're in the market for a dog that's more like that one best friend in college that would get you sent to the dean's office but was always there when you needed them, then visit nafcanimalshelter.org to fill out an adoption application.
We'll have Lady Di take a look at it then; if she's cool with it, we'll give you a call and get you penciled in to her busy schedule. 😉

Skip-a-Pay for the Holidays!
It can be hard to juggle family, friends, & finances during the holiday season.
Let One Vision help make your holiday season a little easier this year!
Our Skip-A-Pay program lets you skip a monthly payment during November, December, or January for a small fee on your qualifying loan.
It's easy to take advantage of this offer; complete the
online form
, and we will take care of the rest!
(Please make sure to indicate the suffix of the loan you'd like to skip.)
When opting for Skip-a-Pay, keep in mind:
Your loan needs to be open for at least 6 months, with a payment made each month, and it has to be at least 12 months since your last skip-a-payment.
Your address, telephone number, and email must be current in our system.
Mortgage, HELOC, and credit cards are not eligible.
A processing fee of $30 will be added to your loan.
Your loan must not be past due.
Terms and conditions may apply.
---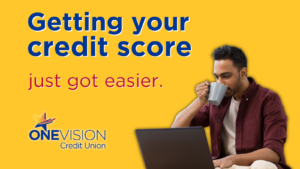 New Credit Score Tool
One Vision Credit Union is excited to announce our new credit score tool. This tool will allow you instant access to your credit score and credit report, along with personalized tips on how to optimize your credit score. This new financial education piece is available free of charge on our Online Banking platform.  Click here to learn more. 
---
Community Event Room
Event space. Gathering space. This is the Community Room.
Need to rent a room for your next corporate or social event? Our Clarksville office has a community room available for rent to anyone in the community, and at a discounted rate for members.
Accommodates catered wedding rehearsal dinners, baby or wedding showers, birthday parties, business meetings and more
Full kitchen, tables and chairs provided
Projector and large screen available for use.
Rates
Our community room is reserved in 4 hour blocks.
Monday thru Friday 8 a.m. to 5 p.m. – $300
Friday after 5p.m through Sunday. – $400
Each additional hour. – $100
Monday thru Sunday – $100 4 hours | $200 full day