The newsworthy stuff.
From our quarterly newsletter and #CommunityMatters efforts to our Community Event room, these are the moments, happenings and newsworthy mentions.
#CommunityMatters
Credit unions around the world were built on the premise of "People Helping People".
In 2019, we resolved to focus on our roots and developed a new initiative called #CommunityMatters. The sole purpose of #CommunityMatters is to form strategies to make a positive and lasting contributions to the communities we serve.
Blessing Box
In the Fall of 2019, we installed our first Blessing Box in front of our Lewis & Clark Parkway location in Clarksville. The Blessing Box is a micro pantry that will be stocked with non-perishable food items to help feed the hungry in our community. The need for quick access to emergency food is great. Many people in our community run out of "money before they run out of month". We hope to provide several Blessing Boxes in Clark, Floyd & Harrison counties in the future to help address this situation.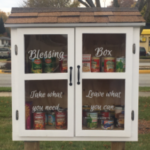 #CommunityMatters 2020
In continuation of our #CommunityMatters initiative, we have selected three non-profits (one from Clark, Floyd & Harrison County) to direct our support during this upcoming year.
The selected non-profits are: 
LifeSpring Healthcare Services
LifeSpring's mission is "to improve and sustain the quality of life in our communities by providing comprehensive behavioral health, addiction, primary care and related services."  Our values are, "It is our privilege to serve, with the highest quality of care, in a professional and fiscally responsible manner."
St. Elizabeth's Catholic Charities
St. Elizabeth Catholic Charities is a non-profit human service agency, serving all of Southern Indiana and Metro Louisville. With a deep respect for all life, we are dedicated to providing for the physical, emotional and spiritual needs of our community. We provide comfort and quality services to those in need, and we strive to foster an attitude of self-sufficiency in each of our clients. St. Elizabeth Catholic Charities does not discriminate, we provide help, create hope and serve all.
In July of 2019, Rauch, Inc. and Blue River Services, Inc. formed an alliance, RBR Alliance, Inc.
Both Rauch, Inc., and Blue River Services, Inc., support people with disabilities and their families while encouraging a community that acknowledges the value and contribution of all people.
Please help us bring support & awareness to these wonderful organizations in our community!
To celebrate. To commemorate. To honor. Our offices are closed on these holidays.
| Holiday | Day and Date |
| --- | --- |
| New Year's Day | Friday, January 1, 2022 |
| Martin Luther King Day | Monday, January 17, 2022 |
| President's Day | Monday, February 21, 2022 |
| Juneteenth | Monday, May 20, 2022 |
| Memorial Day | Monday, May 30, 2022 |
| Independence Day | Monday, July 4, 2022 |
| Labor Day | Monday, September 5, 2022 |
| Columbus Day (Observed) | Monday, October 10, 2022 |
| Veterans Day | Friday, November 11 , 2022 |
| Thanksgiving | Thursday & Friday November 24 - 25, 2022 |
| Christmas | Monday, December 26, 2022 |
| New Year's Eve | Open until 12 noon, Saturday, December 31, 2022 |
Welcome to One Vision Credit Union's Pet of the Week!
As a part of our
#communitymatters
initiative, we recently partnered with the @NAFCanimalshelter to showcase their Pet of the Week to help bring awareness to the pets in our community needing a home. 

Hello… Maurice!
🎶 Some people call him Space Cowboy, some call him the gangster of love…  We call him Maurice. 🎶 ❤
Maurice is a 2-year-old Hound mix who stumbled into The New Albany Floyd County Animal Shelter and our hearts after being brought into by Animal Control. It didn't take long for Maurice to settle in and make the shelter his home. As happy as he is here, Maurice is hoping that maybe someone will come along and help him spring out of here and into their new lives together. He's about 30% sass, 20% goofy goober, and 50% lover of life which totals to about 50lbs of your new best friend. Maurice doesn't seem interested in having any dog friends but is open to the idea of meeting your resident dog if you want to give it a go. He's neutered, microchipped, and up to date on vaccinations. If you are interested in meeting Maurice, please visit nafcanimalshelter.org to fill out an adoption application. His adoption fee is $80 plus applicable licensing fees.
Let's find this gangster of love his furever home!
52 Week Savings Challenge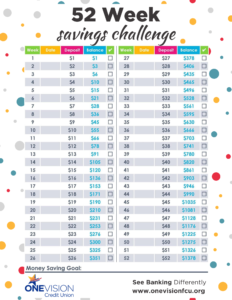 Are you making a resolution to save more money this year? The 52 Week Savings Challenge makes it possible to stick to your New Years' resolution.
Getting started
With this weekly savings challenge, you start small and gradually put a little more in your account every week for 52 weeks — a full year. During week one, put $1 into your savings account. On the second week put $2; on the third week, put $3 … you get the rest.
The most money you ever put into your savings account at one time is $52. By the end of the year, you will have saved $1,378! Plus, when you put your money in a savings account or a money market account, you earn dividends on your savings. That means you're saving even more!
Share with others
Kick off the new year off right with your new savings plan! Follow us on Facebook and Instagram. Share your monthly progress on your page and tag us using #52weekchallenge. Your story may inspire others to get started or keep going. Download this printable 52 Week Savings Challenge to help you keep track.
Attention One Vision Members!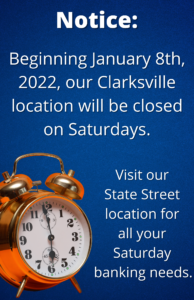 You can find free ATMs and manage your account 24/7 in our home banking and our mobile app.
Thank you for your patience and understanding.
---
Community Event Room
Event space. Gathering space. This is the Community Room.
Need to rent a room for your next corporate or social event? Our Clarksville office has a community room available for rent to anyone in the community, and at a discounted rate for members.
Accommodates catered wedding rehearsal dinners, baby or wedding showers, birthday parties, business meetings and more
Full kitchen, tables and chairs provided
Projector and large screen available for use.
Rates
Our community room is reserved in 4 hour blocks.
Monday thru Friday 8 a.m. to 5 p.m. – $200
Friday after 5p.m through Sunday. – $300
Each additional hour. – $50
Monday thru Friday 8 a.m. to 5 p.m. – $300
Friday after 5p.m through Sunday. – $400
Each additional hour. – $100
Monday thru Sunday – $100 4 hours | $200 full day